United Nations High Commissioner for Refugees
United Nations High Commissioner for Refugees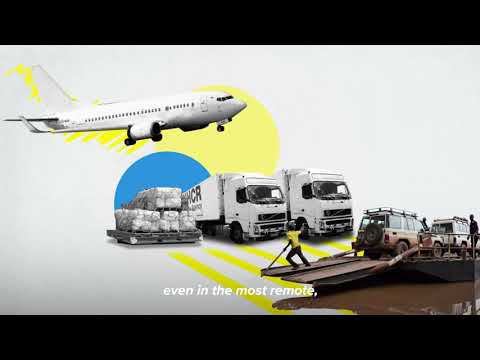 About UNHCR
UNHCR, the UN Refugee Agency, leads international action to protect people forced to flee because of conflict and persecution. We deliver life-saving assistance like shelter, food and water, help safeguard fundamental human rights, and develop solutions that ensure people have a safe place to call home where they can build a better future.
UNHCR is a global organization with more than 20,000 employees working in over 134 countries and with a budget of 10.7 billion US$ and a procurement value of 1.4 billion US$ in 2022.
The Division of Emergency, Security and Supply coordinates all procurement and supply activities within the organization. According to its emergency response commitment, UNHCR can provide airlifts with Core Relief Items for up to 1 million people from its emergency global stockpiles. Mobilization of these items and freight forwarders starts in less than 72 hours. UNHCR has also put arrangements in place to deploy emergency staff when sudden surges in demand occur during emergency situations. Staff on the UNHCR emergency roster can be mobilized within 72 hours. Headquarters are in Geneva, Budapest and Copenhagen. The Supply Management Service is located in Budapest, Hungary.
Procurement
To protect some of the world's most vulnerable people in so many different places and types of environment, UNHCR must purchase goods and services worldwide. This might range from buying fleets of heavy-duty vehicles needed in the most inaccessible parts of the African continent to purchasing needles and thread for a self-help project in Pakistan.
Building on the philosophy and achievements of the UN Global Compact, UNHCR envisions a world in which the private sector plays a constructive role in finding durable solutions for people forced to flee their homes. To achieve this, we proactively engage with corporations and foundations eager to help drive change and find innovative solutions to refugee issues. UNHCR also endeavours to undertake environmentally responsible sourcing of goods and services.
Procurement Principles
In line with UN Financial Regulations and Rules: UNHCR procurement is based on fairness, integrity and transparency through competition and best value for money, taking into consideration the best interest of the organization. Priority is given to source in areas of operation (when prices are competitive and other conditions allow) and UNHCR uses competitive bidding to obtain goods and services (Exceptions to this are limited to a few cases only).
Sustainability provisions
UNHCR is working to improve the sustainability of our end-to-end supply chain for core relief items, reducing carbon emissions and using more recycled materials, where possible. Learn more about our goals and strategic actions.
Vendor Registration
UNHCR vendor database registers all vendors to UNHCR for the purpose of tendering and supplying to the UNHCR. Filling a Vendor Registration Form with supporting documents which includes the following information is mandatory:
Firm/Company/Factory registration certificate

Brochures on products/services

Audit certificate/report

Environmental policy

Quality assurance certificate

Registration with Tax/VAT

Company's annual financial report
Solicitation documents
There are three types of solicitation documents issued by the UNHCR to fulfil a procurement requirement, which will vary in accordance with the nature of the requirement and the estimated monetary value:
Request for Quotation (RFQ): An informal invitation to submit a quotation for requirements of relatively low monetary value. Prices and other commercial terms and conditions are requested and an award is usually made to the lowest priced technically compliant offer.

Request for Proposal (RFP): A formal request to submit a proposal against requirements that have a monetary value above the RFQ threshold but are not fully definable at the time of solicitation and where the innovation and specific expertise of the proposer is sought to better meet the procurement requirement. Price is only one of several factors comprising the evaluation criteria, which are determined before the RFP is released. The offer from a supplier is submitted in two sets of documents: a Technical offer and a Financial offer.

Invitation to Bid (ITB): A formal invitation to submit a bid usually associated with requirements that are clearly or concisely defined, and have a monetary value above the RFQ threshold. Award recommendations are based on the lowest cost technically compliant offer.
Supplier Code of Conduct
The Code of Conduct sets forth what is expected of all suppliers with whom UNHCR does business. The complete version of the "UN Supplier Code of Conduct" can be found online at: www.unhcr.org/supply
---
EXAMPLE OF ITEMS PROCURED BY UNHCR
| Goods | Services |
| --- | --- |
| Fuel | Audit Service |
| Agricultural tools | Cleaning |
| Blankets | Construction |
| Clothing | Electricity |
| Drugs and medical Supplies | Inspection |
| Generators | Insurance |
| Pumps | IT, Telecom |
| IT and Telecommunication equipment | Health Administration Service |
| Jerry cans, buckets | Lease or rental of property/building |
| Kitchen sets, stoves | Mailing services |
| Hygiene parcel | Medical Services, Evacuation |
| Office equipment | Meeting facilities |
| Plastic tarpaulins, rolls | Printing |
| Sanitary materials | Road maintenance service |
| Sleeping mats | Security |
| Solar lamp | SAT Communication service |
| Tents | Training/workshops |
| Vehicles, trucks | Transportation |
TOP 5 ITEMS AND SERVICES IN 2022 BASED ON THEIR PROCUREMENT VALUE (m. US$)
| ITEMS | VALUE (in m. US$) |
| --- | --- |
| BEDCLOTHES / MATTRESSES / TOWELS​ | 90 |
| DIESEL | 37 |
| SOAP / CLEAINING / HYGIENE SUPPLIES​ | 21 |
| MISCELLANEOUS MEDICAL SUPPLIES​ | 21 |
| PLASTIC SHEETS / ROLLS​ | 21 |
| SERVICES | VALUE (in m. US$) |
| --- | --- |
| FINANCIAL SERVICES​ | 149 |
| BUSINESS / ADMINISTRATIVE SERVICES​ | 142 |
| MAINTENANCE / CONSTRUCTION SERVICES​ | 105 |
| COMPUTER SERVICES​ | 104 |
| ADVERTISING / INFORMATION SERVICES​ | 59 |
---