World Food Programme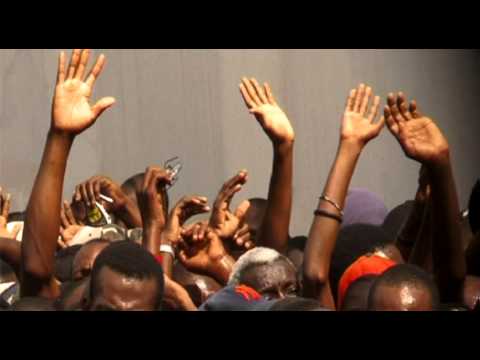 About WFP
The United Nations (UN) World Food Programme (WFP) mission is to end global hunger. WFP provides food assistance at the onset of emergencies and to promote economic and social development.
The World Food Programme was founded in 1963 and is the world's largest humanitarian agency fighting hunger worldwide. On average, WFP reaches more than 80 million people with food assistance in 75 countries each year. About 11,500 people work for the organization, most of them in remote areas, directly serving the hungry poor. WFP is funded entirely by voluntary donations.
WFP's Strategic Plan for 2014-2017 provides the framework for WFP's operations and its role in achieving a world with zero hunger. The plan lays out four objectives:
Save lives and protect livelihoods in emergencies.

Support food security and nutrition and (re)build livelihoods in fragile settings and following emergencies.

Reduce risk and enable people, communities and countries to meet their own food and nutrition needs.

Reduce undernutrition and break the intergenerational cycle of hunger.
As part of the United Nations System, WFP also adopted the Zero Hunger Challenge, endorsed by UN Secretary General Ban-Ki Moon. The Zero Hunger Challenge goals are:
Zero stunted children less than two years of age.

100% access to adequate food all year round.

All food systems are sustainable.

100% increase in smallholder productivity and income.

Zero loss or waste of food.
Procurement
To meet its mandate and achieve system-wide goals, WFP procures food, goods and services and also arranges the transport of these (from point of sale to final point of distribution). WFP works closely with governments, non-governmental organization (NGOs) and other UN agencies.
At Headquarters, food procurement activities are undertaken by the Food Procurement Branch, and goods and services are overseen by the Goods and Services Procurement Branch. WFP Logistics is responsible for contracting land, sea and air transport services for procured items worldwide. Currently WFP is increasing its local and regional procurement falling in line with its goal to place decision making, closer to the operations.
WFP's procurement policy is designed to support food assistance project objectives through purchases of commodities, goods and services on a competitive basis on the local, regional and international markets and in line with WFP's Food Procurement Mission Statement: 'to provide appropriate food to the beneficiaries in a timely and cost-efficient manner'. In addition, WFP's financial rules state: 'To the extent possible to procure from the developing countries.'
In 2015, WFP purchased 2.2 million metric tons of food worth 1.07 billion US$. About three quarters of it comes from developing countries.WFP also procured logistic services for 963 million US$ and Goods & Services worth 587 million US$ in 2015.
Owing to the complex nature of WFP's supply chain and difficult remote working environments, the organization depends on reliable and reputable suppliers.
WFP therefore only procures from pre-qualified suppliers. Registration with WFP is a necessary step to become a WFP vendor. WFP vendor registrations are submitted through the United Nations Global Marketplace (UNGM).
Main selection criteria include:
Provision of food, relevant to WFP's operational procurement requirements.

Legal capacity to enter into a contract.

Has the proven financial standing to honor a contract.

Has proven ability to perform.
WFP reserves the right to delete a vendor from its database in the event of poor performance, non-response to tenders or consecutive non-competitive offers.
In accordance with UN Resolution 1267, all existing and potential WFP suppliers are reviewed against a regularly updated list of individuals, groups, undertakings and other entities associated with terrorism and will be excluded accordingly.
For tendering WFP uses electronic tendering through the In-Tend platform. Normally Request for Quotation (RFQ) (food procurement), Request for Proposal (RFP) (goods and services) and Invitation to Bid (ITB) (goods and services) are the type of solicitation that are published.
WFP has also now implemented Food Service Agreements (FSAs) in order to reduce lead time and purchasing costs. These agreements allow WFP to capture opportunities in the commodity markets. FSAs are to adhere to WFP's procurement principles of fair competition, segregation of duties, transparency, ethics and accountability.
As part of WFP's strategy to rationalize the procurement of frequently purchased goods and services, a variety of Long Term Agreements (LTAs) are also used. This enables lead times to be considerably reduced and fosters strategic supply chain alliances. The agreements can be established at WFP Headquarters or in the country offices. Current LTAs include telecommunications equipment, fuel, stationary and a number of services required at WFP Headquarters.
Due the scope of WFP work, timing is essential in WFP contracts. Suppliers are expected to adhere strictly to delivery times stipulated in the contract. WFP uses 2010 INCOTERMS. Typically, for food WFP asks for FOB (free on board), CFR (cost and freight), DAP (delivered at place), or FCA (free carrier) terms.
Goods and Services purchases are typically made on a DAP basis but this does not exclude considering other terms. International purchases, either shipped to, or made by, Country Offices, can use CIF/CIP/FOB terms if agreed upon between the supplier and the WFP office managing the procurement process.
WFP appoints a third party inspection company. Pre-shipment inspection is carried out at WFP's expense during production and/or prior to dispatch. This will not affect WFP's right for further inspections at final destination. The supplier will be accountable should a second inspection be needed due to quality issues or inconformity. These inspections must be completed within the delivery period stated in the purchase order.