International Telecommunication Union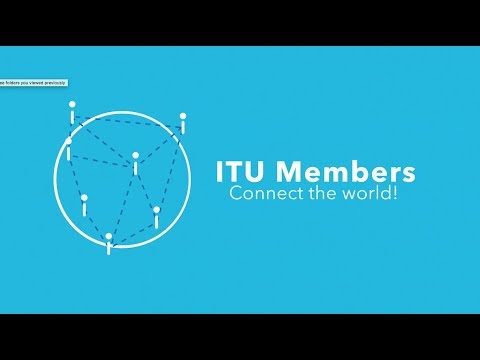 About ITU
ITU is the United Nations specialized agency for information and communication technologies – ICTs. It allocates global radio spectrum and satellite orbits, develop the technical standards that ensure networks and technologies seamlessly interconnect, and strive to improve access to ICTs to underserved communities worldwide.
ITU is committed to connecting all the world's people – wherever they live and whatever their means. Through our work, we protect and support everyone's fundamental right to communicate.
Today, ICTs underpin everything we do. They help manage and control emergency services, water supplies, power networks and food distribution chains. They support health care, education, government services, financial markets, transportation systems, e-commerce platforms and environmental management. And they allow people to communicate with colleagues, friends and family anytime, and almost anywhere. With the help of our global membership, ITU brings the benefits of modern communication technologies to people everywhere in an efficient, safe, easy and affordable manner.
ITU membership reads like a Who's Who of the ICT sector. We're unique among UN agencies in having both public and private sector membership. So in addition to our 193 Member States, ITU membership includes ICT regulators, many leading academic institutions and some 700 tech companies. In an increasingly interconnected world, ITU is the single global organization embracing all players in this dynamic and fast-growing sector.
ITU was founded in Paris in 1865 as the International Telegraph Union. It took its present name in 1932, and in 1947 became a specialized agency of the United Nations. Although its first area of expertise was the telegraph, the work of ITU now covers the whole ICT sector, from digital broadcasting to the Internet, and from mobile technologies to 3D TV. An organization of public-private partnership since its inception, ITU currently has a membership of 193 countries and some 700 private-sector entities. ITU is headquartered in Geneva, Switzerland, and has twelve regional and area offices around the world.
Procurement
The main goal of ITU procurement is to efficiently support ITU's mandate. Procurement is generally undertaken on the basis of competition and is based on the fundamental principles of Best Value for Money, fairness, transparency, economy and effectiveness.
In addition to all goods and services needed to run the Geneva headquarters infrastructure with about 700 employees ITU purchases equipment and services for its technical cooperation and assistance projects.
The annual overall volume for the procurement of goods and services is about 50 million CHF. Within the whole United Nations system, ITU procurement amounted to 0.3% of the total UN procurement volume. ITU does business with approximately 700 different suppliers.
Participation in Common Procurement Teams
ITU is a member of the following common Procurement Teams:
Useful Documents
ITU General Terms and Conditions_Purchase Orders.pdf
ITU General Terms and Conditions of Contract for the provision of Services and Goods.pdf