The United Nations Relief and Works Agency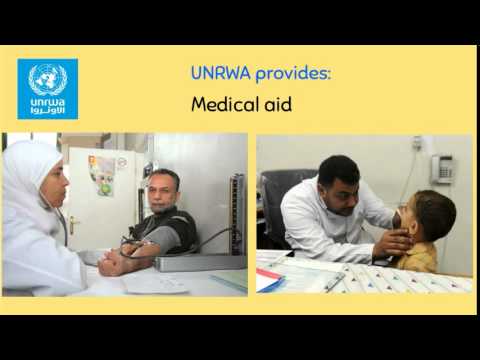 Provide human rights education that empowers Palestine refugee students to enjoy and exercise their rights, uphold human rights values, be proud of their Palestinian identity, and contribute positively to their society and the global community
The United Nations Relief and Works Agency for Palestine Refugees in the Near East (UNRWA) was established in 1949 when nearly three quarters of a million Palestinians became refugees in the aftermath of the 1948 Arab- Israeli war.
UNRWA is one of the largest United Nations programmes, with over 30,000 personnel working across five areas of operations, and is unique in that it delivers services directly to its beneficiaries. UNRWA provides shelter, basic food supplies, medical aid, education, and work opportunities for Palestine refugees in its five fields of operations: Jordan, Lebanon, Syria, Gaza Strip and West Bank including East of Jerusalem. Today, 5 million Palestine refugees are eligible for UNRWA services.
About UNRWA Procurement Section
The UNRWA Procurement and Logistics Division (PLD) is responsible for the procurement, distribution and provision of all food, goods and services required to support over four million Palestine refugees in all of our areas of operation.
UNRWA PLD is based at the Agency's headquarters in Amman and in each UNRWA field office in Gaza, West Bank, Jordan, Syria and Lebanon.
PLD provides Palestine refugees with high-standard goods and services, while striving to achieve the best value for the money UNRWA receives from its donors. In support of this aim, the UNRWA procurement process is transparent, fair and in line with general UN procurement practices.
UNRWA regularly procures:
Basic commodities including flour, rice, sugar, powdered milk and canned meat

Pharmaceuticals and drugs

General supplies such as school textbooks, equipment, ICT, etc.

Vehicles and transport parts

Professional services

Work construction services to construct /reconstruct camps, and maintenance services.
Procurement Principles
All procurement carried out by UNRWA shall be guided by the following principles:
a. Best value for money
b. Fairness, integrity and transparency
c. Effective competition
d. The interest of UNRWA and the Palestine Refugees
General terms and conditions
The UNRWA General Terms and Conditions for procurement, as below, are incorporated in all UNRWA contract documents, and shall form an integral part of any commercial contract awarded by UNRWA.
General Conditions of Contract – Goods
General Conditions of Contract – Services
General Conditions of Contract – Goods and Services
Vendors are encouraged to take note of the UNRWA General Terms and Conditions before registering as UNRWA vendors and all sub-contractors are required to abide by them.
Supplier code of conduct
UNRWA vendors and all sub-contractors are required to abide by the UN Supplier Code of Conduct.
Vendor registration
Vendors wishing to access and view UNRWA's procurement notices are required to register through the United Nations Global Marketplace portal. In case of contract award, the potential supplier will be requested to complete a company profile (please see the useful documents in the right column).
Access to business opportunities and tender notices
Through UNGM, Vendors have online access to tender opportunities published by UNRWA
It is important to note that registering with UNGM does not guarantee that a Vendor is invited to participate in tender opportunities by UNRWA or other UN Agencies. Vendors should check tender opportunities regularly in UNGM (Procurement Notices menu option). An automatic Tender Alert Service, linked to the UNCCS codes, is also available from UNGM, upon payment of an annual fee.
Common Procurement Team of UNRWA
In Jordan, UNRWA plays a very strong role in pioneering UN Collaborative Procurement in response to Delivering as One. We started the initiative since Nov 2017. Our examples are:
Role in Jordan Common Procurement Team

UNRWA was Chair of the Jordan Common Procurement Team in 2015
UNRWA is the Vice-Chair of the Jordan Common Procurement Team in 2017

UNRWA is the Lead Agency for:

Establishing Printing Services LTAs
Entering into BAFO for provision of Hotel Accommodation and Conference Services as a result of UNHCR's solicitation exercise
Provision of Mobile Phone Services for 2017 onwards

UNRWA shares its LTAs with other UN Agencies for a number of goods and services:

Newspaper Advertising Services
Provision of Mobile Phone Services
Fuel for Generators/Heaters
Office and School Stationery
ICT equipment
Essential Drugs

UNRWA piggybacks to Service Contracts, LTAs and solicitation exercises of processes led by other UN Agencies for a number of goods and services:

Global Freight Services
Recruitment Services
Digital fundraising
Medical Equipment/Devices and Consumables
ICT Services

UNRWA utilises procurement services from other UN Agencies such as:

UNICEF Supply Division for Essential Drugs, Medical Consumables and Equipment/Devices
UNFPA Procurement Support Office for Reproductive Health

UNRWA participates as a contributing member to various Tender Evaluation Committees led by other UN Agencies
UNRWA is a Voting Member of UN Women Jordan Country Office's Contracts Review Committee for 2015, 2016 and 2017
In West Bank, UNRWA is part of the One Procurement Working Group led by UNDP.
As collaborative procurement UNRWA shares and uses long term agreements of other UN organizations in West Bank.
UNRWA manages the Mobile Phones contract on behalf of other UN Organization in West Bank

Quick Links to UNRWA procurement:
https://www.unrwa.org/procurement/policy
https://www.unrwa.org/procurement/how-we-operate
https://www.unrwa.org/procurement/suppliers
https://www.unrwa.org/procurement/tenders
https://www.unrwa.org/procurement/statistics
https://www.unrwa.org/procurement/procurements-faqs