United Nations Office for Project Services
United Nations Office for Project Services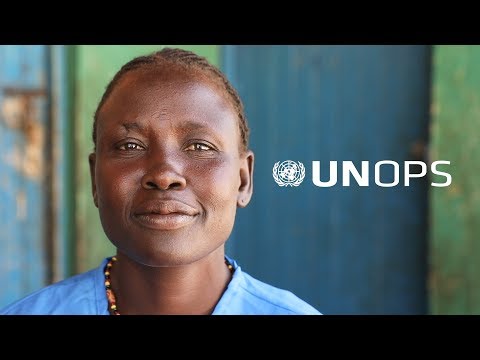 About UNOPS
As an integral member of the United Nations, UNOPS is committed to UN values – with a focus on implementation. We support our partners' efforts to bring peace and security, humanitarian and development solutions to some of the world's most challenging environments.
While UNOPS can expand capacity towards achievement of all the Sustainable Development Goals, focus is always defined by the needs of partners, communities and people we serve.
UNOPS helps UN partners deliver approx. $2 billion worth of aid and development projects in over 80 countries every year. They depend on the organization to supplement their own capacities, improve speed, reduce risks, boost cost-effectiveness and increase quality.
Based in Copenhagen, UNOPS is fully self-financing, prompting efficiency and financial discipline.
It provides support in three main areas: Infrastructure, Procurement and Project management with a focus on sustainable solutions.
UNOPS provides infrastructure, procurement and project management services for a more sustainable world. We support climate action, build resilience, and foster equality and inclusion to better serve communities in need.
Firmly grounded in UN values, we ensure our partners maximize the positive impact of their peace and security, humanitarian and development projects. Equality, inclusiveness, sustainability and resilience form the foundations of our work.
Our mission is to help people build better lives and countries achieve peace and sustainable development.
Our vision is a world where people can live full lives supported by sustainable, resilient and inclusive infrastructure and by the efficient, transparent use of public resources in procurement and project management.
Procurement
At UNOPS, we believe more transparent, sustainable and resilient procurement models can strengthen supply chains, empower institutions and be a catalyst for realizing sustainable and inclusive development.
Diversifying supply chains not only makes them more resilient, but also provides businesses owned by women, young people, people with disabilities and ethnic minorities opportunities to prosper.
We specialize in helping our partners tap into the unique opportunities that public procurement offers to accelerate the shift to low-carbon economies, recover from the socio-economic impact of the pandemic, tackle corruption, and reduce inequality.
Environmental, economic and social sustainability
Through the UNOPS Sustainable Procurement Framework, we are advancing sustainable practices in procurement in a range of ways:
Incorporating environmental, economic and social considerations into solicitation and contract documents

applying different evaluation models to allow consideration of life cycle cost and total cost of ownership

ensuring our suppliers comply with specific conditions on mines, child labour, sexual exploitation, and the fundamental rights of workers

evaluating our suppliers through the supplier sustainability programme DRiVE, using the same principles and to identify and resolve the risks that are inherent in all supply chains.

supporting disability-inclusive procurement as part of the UNOPS Possibilities programme, which aims to enhance the diversity of our supply base to ensure that the suppliers we work with share and reflect the values of the people and communities we serve.

supporting gender-responsive procurement by leveraging purchasing policies and practices that increase sourcing from gender-responsive and women-owned businesses, also part of the UNOPS Possibilities programme
Procurement agent services
Through our leading approach to sustainable procurement, we support our partners by undertaking procurement and supply services on their behalf, maximizing value for money. Our market knowledge allows us to rapidly mobilize operations where local capacity is strained, such as relief and recovery operations in post-disaster settings.
We leverage our considerable global and field procurement experience and technical expertise in areas such as infrastructure, health, mine action, and many other categories, to support our partners in their work. Our specialized and proven services are critical for the successful implementation of large-scale projects and complex supply chains for our partners.
UNOPS procurement agent services offer everything from one-time, stand-alone procurement solutions to complete management of the procurement process. Services include
Supply market analysis

Technical specification validation and development

Procurement planning and strategy

Preparation of solicitation documents

Management of tender processes and evaluation of proposals

Contracting of suppliers and contract management

Definition and implementation of quality assurance and inspection

Organization of transportation and inspection

Logistics management

Installation, testing and verification
UNOPS implements best practices in procurement in order to achieve efficient and transparent processes that deliver best value for money. These include: procurement legislative procedures, risk management and quality assurance, sustainable procurement, anti-corruption and fraud prevention measures, eProcurement and business intelligence, capability development, and UN procurement collaboration.
Partners
We work with a variety of partners, from the UN family to governments, non-governmental organizations, academia and the private sector.
UN Web Buy Plus
UN Web Buy Plus is UNOPS global e-Commerce solution which provides the most important goods and services for the aid and development community, via a central point of entry. It offers an expanded list of products, which now includes mobile clinics, water tanks, solar panels, earth-moving equipment and generators.
Since 2000 UN Web Buy, has delivered more than $1 billion worth of goods and services in 128 countries. Everything offered on UN Web Buy Plus is reviewed prior to being made available for purchase. Sustainability considerations are an integral part of that process.
Quick links